Flight Instructor Training Endorsements
Flight Instructor Training Endorsements
Additional Training Endorsements are required if you wish to conduct flight training in a wider range of operations.
To obtain a Training Endorsement, you'll undertake a combination of briefing and flying training with one of our experienced instructors. You will then be required to pass the test for the appropriate Training Endorsement, which will involve a briefing and flying component.
Fees vary per endorsement and the amount of training required for each student. Please contact us to enquire further.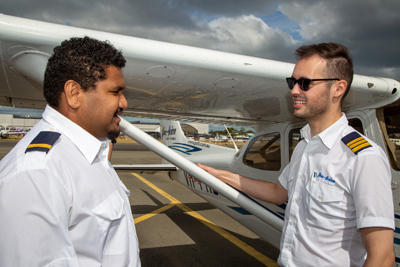 Supervise holders of Grade 2 and Grade 3 training endorsements in the conduct of flight training
500 hours of Ab Initio Instructing
Approve a student pilot to conduct any solo flight. Conduct flight training for an aircraft class rating Assess a Knowledge Deficiency Report (KDR)
200 hours of Ab Initio Instructing
Multi Engine Class Rating
Conduct flight training for the multi-engine class rating
50 hours in a multi-engine aeroplane
Conduct flight training for an instrument rating
Conduct flight training for a low-level rating
Conduct flight training for a formation flying flight activity endorsement
Conduct flight training for a flight instructor rating or training endorsement
Conduct flight training for any design feature endorsement that you hold