Instrument Rating – Multi Engine
Instrument Rating - Multi-Engine
The Instrument Rating – Multi-Engine qualifies you to fly cross country without visual reference to ground features in single and multi-engine aircraft. This may include flying in or on top of cloud, or at other times when visibility is reduced below visual flight minimums.
The Rating provides opportunities to gain employment with companies conducting operations such as single-engine and multi-engine charter, airline operations, flight instruction, aero medical, military, and search-and-rescue 1.
This rating course is best suited to pilots who:
want to learn at a time and pace that best suits them
are confident to study for the theory exam in their own time and do not wish to attend theory classes
wish to attain the CASA rating, but not a corresponding vocational education qualification.
You can undertake this rating as part of the AVI50519 Diploma of Aviation – Instrument Rating which includes VET Student Loans as a payment option.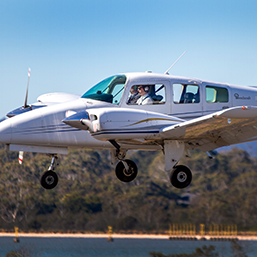 Don't have a multi engine rating yet?
No problem – we offer an option to integrate the Multi Engine Aircraft Class Rating into this course.
See the 'Fees' section below, or contact us for further information.