Graduate profiles
We take pride in the number of our graduates who attain employment in the aviation industry. It's always heartening for us – and for our current and future students – to hear the stories of graduates who've studied hard, worked hard, and attained the flying roles they had dreamt of.
We'll be featuring a selection of our graduates on this page, so check back often to hear their stories.
And if you are a graduate and would like to be profiled, please contact us. It'd be great to hear from you.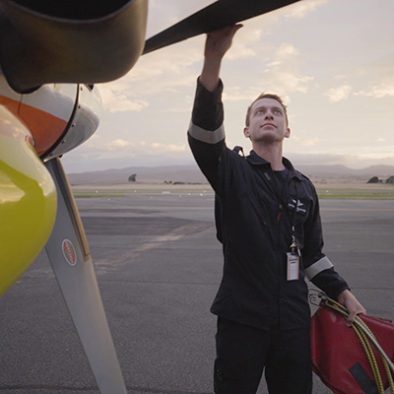 Jesse Hawtree
Aeromedical Line Pilot - Royal Flying Doctor Service
Jesse flies the King Air B200 for the Royal Flying Doctor Service. It's a job he loves and the highlight of his career so far.
Jesse started with Par Avion Flight Training in 2015 – graduating with a Commercial Pilot Licence, then an Instructor Rating, followed by a multi-engine instrument rating. He worked with us for three years as a line pilot and instructor, and attained a Grade One instructor rating, plus too many other endorsements to list.
Click Play and turn up your sound to watch Jesse's video profile.